MTB Rims 26" Standard Edition
Since the establishment of NEXTIE in 2013, we have successively developed a series of 26-inch mountain carbon fiber bicycle rims with different widths to adapt to different tire sizes and different riding forms. Between 2013 and 2014, we developed two 26-inch mountain rims, the NXT26RM35 for All Mountain (AM) cycling and the NXT26XC30 for Cross Country (XC) riding. The rim for XC riding is required to be light, and we developed the weight of the rim NXT26XC30 to as light as 340g. Since 2015, we have developed two more AM mountain rims, the narrow model NXT26RM32 and the wide model NXT26AM40, according to the individual needs of customers for mountain rims and to adapt to market changes.
Among them, in order to meet the needs of customers for Down Hill, we have also developed a NXT26DH40, the ultimate strength, but at the same time the weight is relatively heavy, reaching 540g. For more information about the DH series, click link: Mountain-Down-Hill

In 2016, the plus model of rims that can be installed with a wider tire became popular. We developed a Crocodile series of 26-inch mountain rims. The design of this rim inherits the Crocodile design gene. The single point reinforcement at spoke hole well reduces the weight on the premise of ensuring the strength. It becomes a representative product.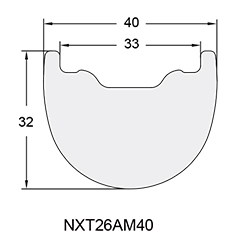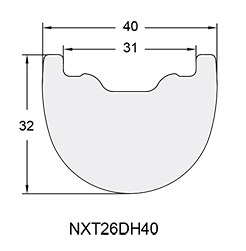 Especially, in 2019 we developed an ultralight edition NXT26XM24U rim, the weight is only 240g, which is the lightest carbon rim we have ever made. The rim contains over 40% T800 carbon fiber materials, the stiffness and performance ensured. Superb!

PS: Due to the weakening market demand for 26-inch mountain rims over the years, most types of 26" carbon mountain rims are unlisted. To learn more details about our 26" rims, please contact us.
---