MTB Rims 27.5" Premium Edition (Symmetric)
The carbon fiber bicycle industry has been innovating and advancing all the time. Being lighter and stronger has always been the pursuit of the industry, especially for the mountain rims for XC (Cross Country) riding , where riders have extreme weight requirements.
In 2017 we first tried to use Toray T800 carbon fiber material and to improve the production process, reducing a weight of 50g for the 27.5" 30mm outer width XC mountain rim, which is a huge improvement. In order to further meet the market's more performance needs and size preferences for light weight mountain rim, we redesigned the shape of ultralight mountain rims from the year 2021. In pursuit of weight, we have maintained the improvement in product strength. The positive stiffness test on strength of the UM series has reached more than 80J. Test report and Test videos, click here. TEST VIDEO LINK
The Ultralight Edition of mountain rims has also become our benchmark for mountain rims. They has been selling very well over the years.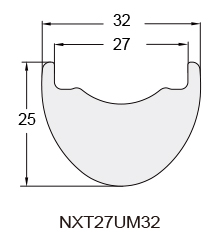 Meanwhile, in order to maintain the continuous improvement in the performance of AM (All Mountain) carbon rims, we redesigned two models of AM-level rims in 2020. The new models are NXT27XM36 and NXT27XM41, which can be used for AM and Enduro riding. The inner width is specially designed to 30mm and 35mm, which mountain riders mostly prefer. They can be fully adapted to the current popular AM-level tires of about 2.15-2.7". In the upgrade of product raw materials, XM series are added T800 carbon fibers. Also with the premium layer-up system applied, RIms get lighter in weight and stronger in performance. Due to the updated production technology, the positive stiffness test on all the XM series has reached more than 110J, the Enduro version even reached more than 120J. Test report and Test videos, click here. TEST VIDEO LINK
---