MTB Rims 29" Premium Edition (Asymmetric)
For the XC racers, in May 2020 we NEXTIE developed two innovative asymmetric ultralight MTB rims, specially for XC Mountain Bike racing. We redesigned the profile of 27mm width rim NXT29XMA27 and 30mm NXT29UMA30. T700 + T800 carbon fiber materials are used to compose the rims, which materials proved to be super and fantastic performance in the past nearly 3 years. We are proud of these two new designed Ultralight rims, racing level for XC cycling. Test report and Test videos, click here. TEST VIDEO LINK
The rims above are for cycling forms of XC, Marathon and Trail, among which, the NXT29XMA35 model could be used for AM riding by being reinforced with extra carbon fibers.

To keep improving in aspect of All Mountain level, we renewed two types of AM level carbon rims. The new models are NXT29XMA36 and NXT29XMA41, for the AM and Enduro cyclings. Internal width are specially designed as loved 30mm and 35mm, for much more fittable tires in accordingly ranges. Surely to make rim in high strength, T800 carbon fiber added, and we used premium layer-up system to compose these rims, though more complicated, but worthy. Additionally, we also renewed the production technology. The test results showed a higher level strength. Test report and Test videos, click here. TEST VIDEO LINK
The rims above are for cycling forms of AM and Enduro.

Meanwhile, in order to meet the demand of more customers for riding down hill, we specially developed the DH mountain rim of NXT29XD39, also a 27.5" version in same profile, with an amazing positive stiffness at 160J.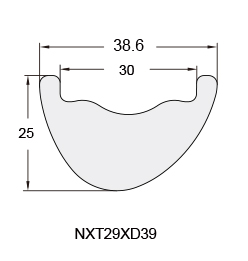 The rim above is specially for cycling form of Down Hill.

---