---
[ Wild Dragon & Black Eagle] Double Wall | 26" 27.5" | 65mm 85mm 90mm
This is where it all began for NEXTIE in 2013 with our first wheel mold for the Wild Dragon 26" x 90mm fatbike rim, which has led the rise and development of carbon fiber fatbike wheels all over the world.
The initial design concept emerged from a professional bicycle rider named Ryan Melnyck from Canada. The tri-angle cross-section of Wild Dragon highly supports the strength of wheel. The positive stiffness reaches amazing result of 426KG in the first test, more than 4 times of a normal carbon mountain wheel. The roof surface could easily slide snow, mud or sand from the wheel, which makes cycling effortless. As well, installing or uninstalling a tire gets quite easy to process by the design of smooth rim bed surface.
In 2015, we upgraded Wild Dragon and developed a lighter, high-quality version to meet the riders' demand for lightweight. In the same year, we developed a bigger size wild dragon - 27.5", which is the best choice for taller riders.
In 2016, with the continuous maturity and differentiation of the fatbike market, fatbike riders had new requirements for wild dragon. We appreciate the good suggestions put forward by every customer who loves our brand. This year, we developed the world's first carbon fiber tri-spoke fatbike wheel - wild dragon tri-spoke, which is still the unique carbon fiber tri-spoke fatbike wheel in the world.
In 2020, we continued to improve and make progress, and upgraded the Wild Dragon Tri-Spoke wheel equipped with high-end hubs: Wild Dragon Tri-Spoke with DT Swiss big ride hub was officially launched.
Going through the past 8 years, Wild Dragon is not only a classic product of NEXTIE, but also a benchmark of carbon fiber fatbike in the world. Though the field of fatbike is still not large, more than 3000 riders on six continents are riding Wild Dragon wheels, which is a proud achievement for us. One happy customer highly appreciated and said: NEXTIE is Fat Bike Wheel World Headquarters.

Some photos of Wild Dragon Wheels: https://www.nextie.com/wild-dragon-photos

After the wild dragon fatbike rim was developed and widely recognized by the market, in 2014 year we developed the black eagle 65mm fatbike rims in two sizes of 26 inches and 27.5 inches.
This type of rim continues the wild dragon design gene and concept, maintains the high strength and riding comfort, could be used to mount a narrower tire, so as to control the bicycle more flexibly when riding in mountainous areas, which greatly enhances the riding experience.
Black Eagle series have also been recognized by the market fastly. In 2016, we developed Black Eagle carbon fiber Tri-Spoke wheelset.
---
[ Xiphias] Single Wall | 26" 27.5" 29" | 105mm 95mm 85mm 80mm 70mm 65mm 55mm
Two years after the release of the traditional model NXT26SW80 carbon rim since 2016, fatbike riders had new requirements for single-wall fatbike carbon rims, and hoped that we could make a single-wall rim that will not accumulate snow like NXT26SW80, so we continued to maintain the consistent spirit of developing new products, referring to Wild Dragon The design concept of triangular cross-section, combined with the development experience of single-wall fatbike rim, the year of 2018 saw the introduction of Xiphias single wall fat bike rims in 26 and 27.5 with widths from 65mm to 105mm, premium edition. That pretty much presented the fattest collection of fatbike wheels anywhere – as long as you're okay with carbon fiber!
The year of 2020, giving a fast response to many customers request, a new member of Xiphias - 27.5" 70mm came.
The year of 2021, Xiphias 27.5" 80mm and 55mm, 29" 55mm width carbon rims hit market. Now you have full range choices of fantastic Single-Wall Carbon Fiber Fatbike Wheels.
[Xiphias series] (single wall):
Size: 26 inch
Size: 27.5 inch

Size: 29 inch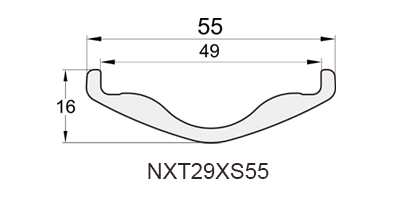 ---
Showing 1 to 16 of 16 (1 Pages)