NXT29VM33 | 345g / 285g | Tire 1.75"~2.25"
Vista Edition
The Vista Edition has been completely redesigned with an emphasis on mountain cycling characteristics. In terms of design, on the one hand, we have increased the thickness of the rim lip from 3.0-3.5mm thick in Premium Edition to 4.0mm in Vista Edition, which greatly increases the impact resistance and ensures the required strength for mountain cycling. Regarding the strength of the Vista version, the impact test video goes to: TEST VIDEO
On the other hand, the depth of the Vista Edition rims is adjusted to only 20mm, which can increase the toughness of the mountain wheels, thereby improving the comfort of mountain riding. The feature of asymmetric model has become the mainstream of bicycle wheels with its huge advantage of balancing the spoke tension of the wheels. Therefore, we design the Vista Edition rims as asymmetric model. In the Vista Edition update, we have launched a total of three sizes, 29-inch 38mm, 29-inch 35mm and 29-inch 33mm, to adapt to different sizes of tires and different riding forms.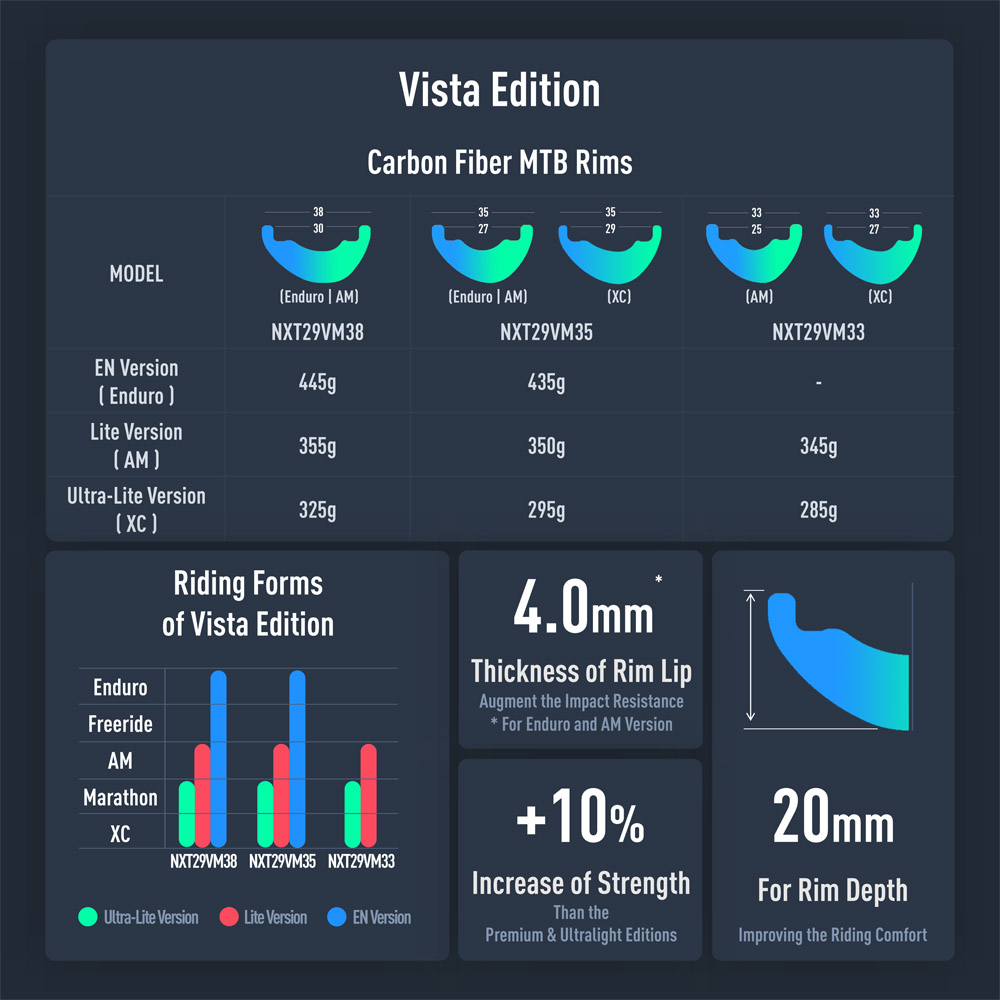 Basic
Code:

NXT29VM33

Rim Type:

Clincher / Hookless / Tubeless Compatible

Materials:

Carbon Fiber

Drillings:

28, 32, 36

Warranty:

3 Years
Specification
Size:

29"

BSD (Bead Seated Diameter):

622mm

ERD (Effective Rim Diameter):

601mm

External Width:

33mm

Internal Width:

25mm or 27mm

Rim Height:

20mm

Spoke Bed Offset:

3.0mm

Weight:

345g (Lite AM) / 285 (Ultra-Lite XC)

Valve Hole Diameter:

6.5mm (Presta)

Spoke Holes Diameter:

4.5mm

Assembly Hole Diameter:

7.5mm

Rim Lip Thickness:

4.0mm
Recommendation
Spoke Tension:

150kgf

Tire Size:

1.75" ~ 2.25"

Tire Pressure:

60psi

Load Limit (One Wheel):

Lite (110KG) / EN (150kg)
Appearance
Weave:

UD

Finish:

Matte / Free Coating / Glossy
Application
application:

XC / AM / Marathon
Reviews (1)