Rollingstar | 378g | Ratchet 36T / 52T.
This is the first time that NEXTIE developes and produces bicycle hubs. NEXTIE has been committed to promoting the development of the bicycle industry. While we are making carbon fiber bicycle rims one of the best in the bicycle industry, we realized that the performance of bicycle wheels does not only depend on the rim itself, but also the core component of the wheelset, the hub. plays an extremely important role. The price of the high-end hubs we know so far has gone up, and the quality of the low-end hubs is not very reliable. So we decided to develop this core component ourselves to meet the market's demand for high-quality and affordable hubs, so our Rollingstar hubs came into being.
The Rollingstar is designed to build durable and reliable hubs. After nearly half a year of quality inspection over various hubs, research on the performance of materials used in various hub components, forward-looking analysis to improve riding experience, and countless repeated performance tests on the Rollingstar hubs, we finally completed this satisfying work. The Rollingstar hub shell, axle and freehub are all made of AL7075 aluminum alloy materials, the hub roll bearing adopts the reliable TPI 6802 and 6902 enduro types, and the ratchet inside adopts 40CrMo material which is of excellent hardenability and toughness, to ensure the precision and long-lasting strength of the hub. In terms of the dimension of Rollingstar, we have designed a larger flange diameter and wider flanges distance, so that the offset angles of the spokes would be larger, and the overall stability of the wheelset is higher, which could meet the needs of higher-intensity mountain ridings.
About Rollingstar hubs dimension and profile, you may view this document: Rollingstar-Overview.PDF
---
Update on September 22th 2022:
Silver color is available for Rollingstar hubs.
---
Update on September 7th 2022:
Oil Slick color is available for Rollingstar hubs.
---
Update on August 9th 2022:
NEXTIE Rollingstar hubs are now officially released after five months of research and development. The first batch of hub sizes are boost 15x110/12x148mm for mountain bikes, J-bend, 28holes or 32holes, Hub body Shimano 11s, Sram XD and Microspline 12s are available. The hubs adopt to star ratchet construction and are available in 36T and 52T. The first batch is black only. Orange color is arriving in 2 weeks and oil slick color in 4 weeks.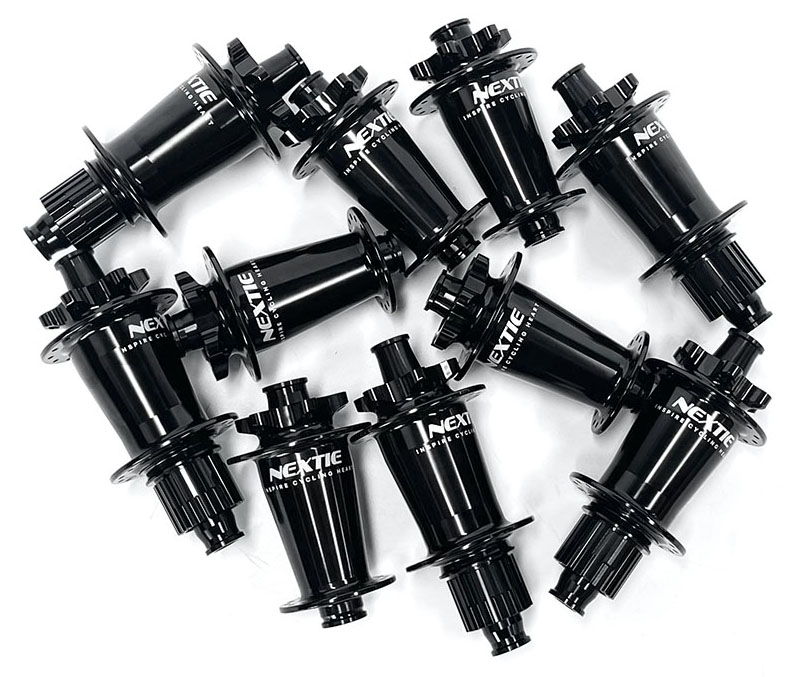 The Rollingstar hubs exist for all of our NEXTIE riders. If you prefer any other colors or have any advice on them, we are very happy to hear. Click HERE to leave us a message.
Basic
Name:

Rollingstar

Materials:

Aluminum Alloy

Type:

Classic (J-Bend)

Color:

Black, Oli Slick, Orange, Purple and more

Ratchet Teeth:

36T, 52T

Net Weight:

From 378g

Brake Interface:

6-Bolt

Drillings:

28, 32

Spoke Hole Diameter:

2.6mm

Warranty:

3 Years
Front Hub Specification
Axles:

15mm x 110mm Thru

Net Weight:

135g

Center to Flange:

27mm (left) / 42mm (right)

Flange Diameter:

58mm (left) / 45mm (right)

Materials:

AL7075 for axles, shells and hub body; AL6061 for end caps;
Rear Hub Specification
Axles:

12mm x 148mm Thru

Net Weight:

243g (Shimano MTB) / 248g (Sram XD) / 252g (Shimano Micro Spline)

Center to Flange:

38mm (left) / 24.7mm (right)

Flange Diameter:

58mm (left) / 54mm (right)

Materials:

AL7075 for axles, shells and hub body; AL6061 for end caps; 40CrMo for ratchets.
Customizing
Accept Customization:

Color of the Hubs, Graphics on the Hub Shell
Reviews (0)