The Vista Edition was created to explore the performance and weight limits of carbon fiber materials applied to bicycle wheels. We know that different materials would affect the performance and weight of rim products. What if we change the appearance design of a rim? Would it bring any difference or improvements in the strength and weight?
We have found that the most vulnerable part of a rim is the rim lip. If we could enlarge the area of rim lip where it contacts to the tire, in theory, under the same impact force, the pressure on a rim who has a wider lip area would be less, which could performance a higher impact resistance. Based on this theoretical premise, we newly designed the Vista Edition Omega 37 XC mountain rim with a rim lip width of 4.0mm, which is wider than other XC rims in width of 2.5mm or 3.0mm. The contact area between the rim lip and the tire is larger, and the impact resistance of the rim will increase.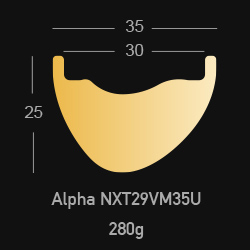 On the premise of ensuring that the impact test reaches 70J (Premium Edition XC rim test standard), we continue to explore and adjust the stacking manufacturing technology, and finally successfully completed the development of the Omega 37 rim. The weight is only 285g. Comparing to the rim products in the same internal width, such as the Premium Edition NXT29UML34 and NXT29UM35 rims in weight of 325g, Omega 37 in weight 285g greatly innovates again. This is a huge improvement.
Basic
Name:

Omega 37

Code:

NXT29VM37U

Rim Type:

Clincher / Hookless / Tubeless Compatible

Materials:

Carbon Fiber

Drillings:

24, 28, 32

Edition:

Vista Edition

Warranty:

3 Years
Specification
Size:

29"

BSD (Bead Seated Diameter):

622mm

ERD (Effective Rim Diameter):

590mm

External Width:

37mm

Internal Width:

29mm

Rim Height:

25mm

Spoke Bed Offset:

2.6mm

Weight:

285g

Valve Hole Diameter:

6.5mm (Presta)

Spoke Holes Diameter:

4.5mm

Assembly Hole Diameter:

7.5mm

Rim Lip Thickness:

4.0mm
Recommendation
Spoke Tension:

80~115kgf

Tire Size:

1.95" ~ 2.75"

Tire Pressure:

30 ~ 60psi

Load Limit (One Wheel):

100kg
Appearance
Weave:

UD

Finish:

Matte / Free Coating / Glossy
Application
application:

XC / Marathon
Reviews (0)